Wedding Cookies in Memory of a Beloved Sister
My daughter, Kyleigh Altsman, married Justin Palmer on April 2nd of this year. We are a close-knit family and Kyleigh wanted the celebration to be all about enjoying family and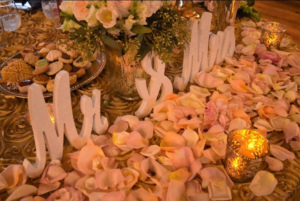 friends, centered around great food and, of course, wedding cookies. The beauty of family is the help and support you receive without even asking. When the engagement was announced, grandmothers, aunts, cousins, and friends all called to tell US what they were baking. It was amazing! I kept a detailed list of all the varieties and how many of each kind. I have planned large events for many years and my daughter has come to appreciate the fact that I keep lists of my lists! Once we found out what others were making, I baked the remaining requests. On several weekends, my nieces and nephews came to my house to help with the baking (mostly eating) and we had so much fun! We allotted a minimum of 1 cookie, per kind, per guest. Most varieties were double or triple that quantity.
How we decided what to make:
In addition to her brothers, Kyleigh is very close to her cousins. After getting requests from her husband-to-be and her two brothers, Kyleigh asked each of her cousins for a request. She included her grandparents, aunts, uncles, and close friends. After gathering the requests, we created our list. We are so fortunate to have loving, giving people surrounding us! She was very excited imagining the expression on her loved ones' faces when they saw their favorites on every table. After the evening came to an end and most guests left, we even found several family members searching the tables for their favorites to take home.
Significant story:
The first recipe to be included was my grandmother's chocolate chip cookies. This recipe is very significant to us. Seven years ago, I lost my sister, Connie, (Kyleigh's aunt) to breast cancer. One of her favorite things (besides her niece, Kyleigh), was my grandmother's chocolate chip cookies. So much, so, that we served them at her memorial service. There was no question that the cookies had to be included in her wedding day. I would be the one to bake them, as I did for the memorial service, and that would be Kyleigh's way to include Aunt Connie in their day. Many couples use beautiful candles or flowers to honor their loved ones at their ceremony. We chose cookies. Kyleigh placed bags at every place setting so that all guests could take home the cookies at each of their tables. The chocolate chip cookies were included on the trays with the rest. There were moments during the busy day that I wished for my sister to be there. However, we found comfort in knowing that each of our guests could take a little piece of her home with them. We didn't create a specific display or make a note of the significance, but wanted it to be what Connie would have appreciated most!
Nancy Altsman, Ellwood City, PA